Leave small children and pets with relatives or friends if possible.
Strip beds and leave bedding ready for packing in Deane's linen bags.
If Deane's are to pack glass/china please lay out ready for packing on a flat surface if practical.
Meet the removal crew and show them everything that is to be removed. Point out items that to be left behind or are going with you.
Refreshments; tea coffee are most welcome for removal crews but please no alcohol.
When loaded check house,garage etc. with driver and discuss delivery time.
Unloading; please show removal crew the position you require all items. Any items we have dismantled such as beds/wardrobes we will re-assemble, however we cannot re-lay carpets or hang pictures and mirrors.
Finally check van is empty and all items are in the correct place. If unpacking is required it will only be onto a flat surface and not back into cupboards, bookcases etc.
Due to the high cost of packing materials especially china cartons and garment carriers, we require these items returned. Please check with driver. However should you require to keep any materials there will be a charge.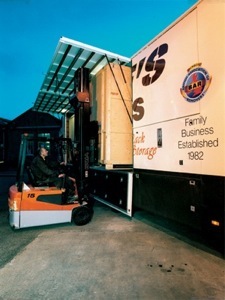 Deane's is a family run business based in north wales dedicated to the removal and storage of household furniture & effects throughout the United Kingdom, Europe and Overseas and are privileged to be members of the 'British Association of Removers'. Membership of B.A.R. means that Deane's are bound by the rules of the Association to conduct our business in a professional manner and set a standard covering staff, vehicles, equipment and liability cover. Regular inspection by BAR offices ensure we maintain this high standard.
Read more >
Welcome to Deanes Removals
Enquiry Form
* Required
"If you're Moving look for the badge"
We adhere to British Association of Removers Alternative Dispute Resolution Scheme which is independently operated by:
The Property Ombudsman, Milford House. 43-55 Milford Street, Salisbury, SP1 2BP - Tel: 01722 333306 - www.tpos.co.uk
Deganwy, N. Wales 01492 582934 Removals & Home Pack Container Storage European & Overseas
The Container Store, Vale Road, Llandudno Junction, N. Wales LL31 9SH - Email us: Info@deanesremovals.co.uk - Established in 1982